ON POINT OUTFITTERS BIRD DOG TRAINING
BIRD DOG TRAINING FACILITY AND TRAINING PROGRAMS FOR DOGS

Pennsylvania Bird Dog Trainer - Call 724-317-6729 or 814-521-3540

We own and operate a full service training facility for pointing and flushing dogs. We provide professional bird dog training in Pennsylvania on over 1000 acres of private land managed for wild birds. We started out training our own dogs to hunt grouse in Pennsylvania. Over the years we have expanded to train our dogs to hunt about every bird you can find in North America and we can do the same for your dog regardless of what you like to hunt.

The one common thing needed when training all bird dogs is an abundance of birds. Our training facility provides every dog an opportunity to get hundreds of contacts on wild and liberated birds. We will also help to develop a training plan to compliment your dog, the game bird that you desire to hunt, and your style of hunting. We can help guide you through the process or we can do it all for you with the dog staying at our facility. We use a combination of training drills and simulated hunting on wild birds to develop a dog with enthusiasm, style, experience, and knowledge to handle the bird that you hunt. We guarantee that you can not find a better training facility with the shear number of birds as you will find on our farm.

We work with and train hundreds of dogs each year and have experience with all levels of training, abilities, and issues related to training a bird dog. We have worked and trained many dogs that have excelled or won in most all of the dog competitions and venues. We hunt and train dogs 12 months a year and our facilities are designed to accommodate both kennel dogs and house dogs. Most of the dogs we train are used as foot hunting bird dogs and family companions. Regardless of the level or amount of training your dog might need, we have the experience and facility to help you. We also offer use of the grounds to owner / trainers who wish to simply get their dogs into a lot of birds.

Our training facilities are easily accessible to the hunter who reside in Pennsylvania, Maryland, West Virginia, Ohio, and Virginia. We can get your dog experience handling grouse, woodcock, coveys of quail, and wild pheasant on our property. We can provide your dog with more hunting experience in one week on wild birds than you can provide in a year of hunting. Your dog will enjoy it stay in our climate controlled kennels and will be worked on a daily basis. Your dog will come home as an accomplished hunter and in better hunting shape than when it arrived. Many owners schedule their dogs to stay with us when they are away on vacation or business and find that the cost was cheaper than placing their dog in a boarding kennel.

We invite each person to visit our facility to see first hand the birds that are available to your dog and what we can provide in the way of training. References can be provided upon request on the quality training experience we provide.

WILD BIRD CAMP

Each fall, On-Point Outfitters spends time on trips to Michigan, Iowa, South Dakota, Nebraska, Kansas, North Dakota, and other destinations to hunt and train on wild birds. We can take up to 18 dogs on these trips and besides our own young dogs, we typically take 2 or 3 client dogs to get them valuable work on wild birds. You can schedule for us to take your bird dog with us to gain the practical experience on the bird of your choice. Whether you hunt your dog on grouse, woodcock, quail, huns, prairie chickens, or pheasants, we have a trip that will get your dog valuable experience on the type of bird you hunt. Space is limited on trips so reservations are taken on a first come first serve basis.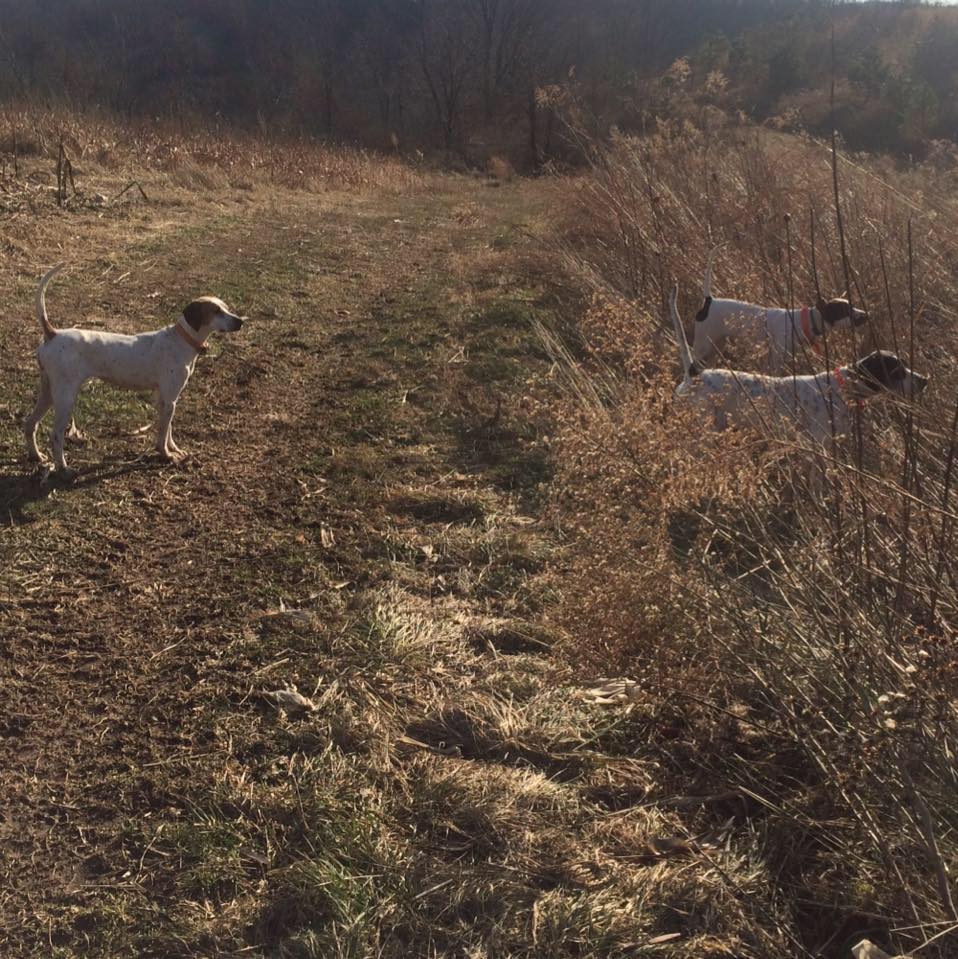 BIRD DOG TRAINING SERVICES
UPLAND TRAINING

Point Breeds
Flushing Breeds
Complete Gun Dog Training

Introduction to birds
Introduction to the gun
Wild Bird Hunting Experience
Conditioning
Whoa Breaking
Basic Yard Training
Whistle Training
Collar Conditioning
Backing
Trained Retrieve
Breaking of Gunshyness